Yellow Horse News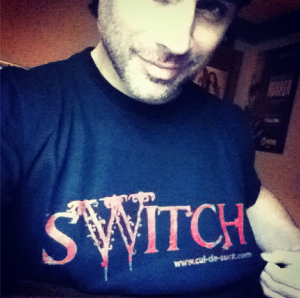 We've got five signed early printings sitting around the office here and I think they belong in five pairs of hands. They're the larger size (6 x 9) but big is beautiful, right? And there's more Barbara on the back for your wicked pleasure.
Winning is super easy: LIKE our sWitch Facebook Page and then link us to something dark, twisted and cool on the sWitch wall. If you need ideas, head over to the sWitch blog for dozens of them. Those who post the sWitchiest five images each get a book.
We at YHP&P are hoping our latest project, a film adaptation of HorrorCon, will help us produce more sWitchable projects, maybe even a film adaptation of its own. HorrorCon is very close to being completed and we're very excited about it. Screening dates are literally just around the corner. And if you dig that t-shirt I'm wearing, go to our Zazzle page and grab one. There are plenty of other styles and designs to choose from, too. All proceeds go to getting the film out there where you can see it.
So stay twisted, folks, and let's see those pictures!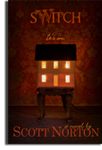 Great review of sWitch over at Bitten by Books! Thanks very much Mary!

Why not add some slick HorrorCon and Yellow Horse merchandise? We've created some really cool Ts, hats, and even a mug or two. Have a look – every item you buy helps us make HorrorCon and publish great new titles.
Have an idea for something that would look great with a HorrorCon logo? Drop us a message and let us know!
You can buy from our US Zazzle store or from the UK shop.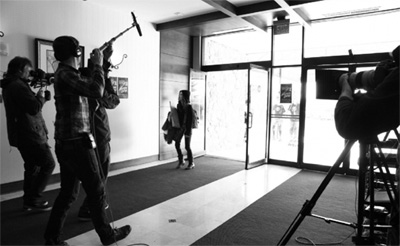 At least, that's the plan! We've launched a Kickstarter campaign to raise funds to help make Writer/Director Scott Norton's film HorrorCon.
Principal photography has just started and Scott and his incredible team and talented cast spent three days at Monster Mania in Cherry Hill, New Jersey shooting in some incredibly challenging conditions. Scott is bravely sharing his experiences over at the HorrorCon blog, so pop on over there and check it out. We're also on Facebook if you want to get updated when the blog is plus we'll be adding more updates on our page – direct to your Facebook stream!
More importantly, won't you help us make HorrorCon? Kickstarter pledges get great rewards in return, as well as the warm fuzzy feeling you'll get knowing you're suppporting an up and coming filmmaker create a very special film.
sWitch is getting some great reviews on Amazon and out on the blogs, with a few rolling in over the last couple of weeks. Over at Grade Z Horror, Capt Murdock calls sWitch, "a thought provoking, humorous, gory and, above all, truly satisfying reading experience."
Dutchie at Bookish Ardour writes, "sWitch is what I like to call delightfully gothic. …darker in undertone, but not morbidly or depressingly so. …this is the type of book that a Goth loving book reader who appreciates a darker sense of humour should pick up and give a go, because it is a fun read with a dark twist."
And Ronnie at Dollar Bin Horror says, "This has to be one of my favorite novels that I've reviewed so far. Not only does it take our perception of a 'normal' family and turn it on it's side, it completely flips it around and takes it to a whole new level of dark humor."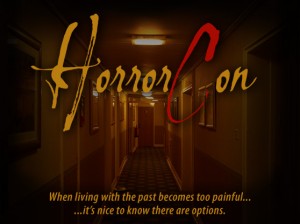 Landisville, New Jersey, 17 November 2010 – Yellow Horse Productions announced HorrorCon, an indie horror film to be released in the fall of 2011.
Set at a horror convention in Cherry Hill, New Jersey, HorrorCon is the story of a young woman suffering the painful and lingering repercussions of a terrible personal tragedy. Now a pill-junkie battling both mental and physical torment, she's having trouble vending at a place that constantly reminds her of what she's lost. Pursued by a mysterious celebrity author who collects vials of blood in exchange for autographs, he offers her a final chance at a future – but one that could change everything she knows about being alive.
To be shot on site at several real horror conventions, the film will utilize the chaotic and colourful atmosphere of the event to create a realistic tone that will contrast poignantly with the dark and artful feeling of more intimate scenes in and outside the hotel. The production will rely less on special effects and more on character development and actor performances for a truly original take on the standard horror fare.
HorrorCon began as a screenplay that became a published novella and is now back to its original form. Once completed, the film will be submitted to festivals world-wide and marketed for distribution.  Currently in pre-production, auditions for cast members are scheduled for December, to be held in New York City.
HorrorCon is produced by Yellow Horse Productions and written and directed by Scott Norton. The movie website and production blog can be found at http://www.horrorcon-the-movie.com
I think we've said before that we never got into this gig for the money (not that it wouldn't be grand to become fabulously wealthy, of course). We do it for the love of our art and that really is the truth. We also write, illustrate, animate, photograph, design, make music, and publish so that we can share our respective arts with the wider world. What's the point of creating otherwise? OK, so that's a big philosophical question. Let's not go there…
This was meant to lead into our announcement that sWitch is now available to buy from Amazon and Barnes & Noble (and maybe even other online retailers we haven't had time to check yet). You can buy it now for only $13.13.
It took approximately a week for sWitch to get from the Ingram catalog to the retailers and we're filing that bit of information away in our currently stuffed-to-overflowing micro-publisher brains. We've also been busy stuffing our heads with arcane bits of knowledge about the ePub format, xhtml, manifests, spines, .mobi files, epub validators and Sigil. As a result, the epub version of sWitch has been submitted to Amazon for Kindle and we hope that it won't be too long before it will be available to purchase for the tidy sum of $6.66 (of course).
Next up is the iPad version for iTunes, which should be quite easy to get our heads around since it too, requires formatting as an epub file. We may add a couple of niceties to stretch our wings in preparation for some other iPad projects in the future (nudge, nudge, wink).
sWitch will also soon appear in the UK and EU and we'll let you know when and where! By the way, Our distributor tells us that they only offer books via the Espresso Book Machine in Australia, so we're sorry about that. We'll see what we can do to address the situation!
Finally, we are still waiting on our sWitch proofs from our local short run printer. Keep your eyes out for an announcement there, because we'll be offering a special bundle package of the paperback version of sWitch plus your choice of e-book format for the price of just the printed book. That way you can start reading right away while your book's winging its way to you. See how considerate we are?
With my weekly rambling nearly out of the way, I should say that we're hoping that some of the proceeds from sWitch will help fund new projects that we'll be announcing soon-ish.
And maybe a round of beer. Hey, we're celebrating!
Oh, that we could. While it certainly rained enough over the last few weeks to flood both station and street, we can't blame Baker Street for sWitch's late release. For sightly late it will be.
No, the reason for the tardy arrival of Yellow Horse's second child is the result of a rather protracted labor, something many parents will recall not-so-fondly. Late arrivals are often painful and sWitch is no exception. We failed to anticipate quite how long the Lightning Source application process would take (having thought we'd actually already been through it), nor how much time would need to be spent on their approval of our first release with them. We expect that subsequent births will be quicker and easier, as they tend to be.
OK, enough of the childbirth analogies. Since we can't yet offer up a bound copy of sWitch to our readers (who are no doubt waiting with bated breath), we are instead very pleased to present our new website. The new Yellow Horse site outlines all our services, provides some examples of our work and, when sWitch is released, will allow you to purchase copies directly from us. We'll ensure that you'll get some extra goodies if you buy from us as well, so check back next week when we hope to announce a bouncing baby book…sorry – the release of sWitch, a novel by the very talented Mr Scott Norton.

It's been frantic around the Yellow Horse stables yet again. Scott's been head-down in his adaptation of HorrorCon, Louise has just finished what we hope is a final edit of sWitch and I've been galavanting in London-town working on Facebook applications and basically living the life of a celebrity.
Some of this may not be quite true.
Consequently, much of what should have been done by this week isn't quite and next week isn't looking to slow down all that much.
As you might know, sWitch is due to be released in August, which means we have until the very last day of the month to meet our deadline. Can we do it? Or will flooding at Baker Street put paid to our cunning plans? Tune in next week for the exciting conclusion.
Meanwhile, a reminder of what sWitch has in store on August the 31st.
Since you're here, a couple of wee snippets of publishing news: heavyweight marketing author Seth Godin is leaving Portfolio Books to self-publish (although we notice that they don't call it that, but rather "sell direct to his fans"); Barnes & Noble have released a Nook for iPhone; Amazon is stirring up the mainstream UK press with its £109 Kindle; and "a senior publisher" is annoyed at the devaluation of books by nincompoops.
And because we love reading and we love photographs (and we're around the world), we really must recommend you go off and have a look at Steve McCurry's images of people around the world reading. Fabulous.
Don't forget to come back when you've finished.
It's been another busy weekend at Yellow Horse. And elsewhere, truth be told. Scott's been busy with final edits to sWitch before he passes it back to me for the final layout and then on to Louise for the last polish and proofread. He's also been hard at work on the screenplay adaptation of HorrorCon.
The weekends, however, are all about the music! Scott did his acoustic thing at the Dead Dog in Sea Isle City, while I spent a couple days doing my photography thing at the four day Cambridge Rock Festival. It was a brilliant few days out meeting old and new friends and photographing some legendary British Rock veterens, including Mickey Moody of Whitesnake, Chris Ousey from Heartland, Harry James from Thunder, and Laurie Wisefield of Wishbone Ash. Add to that the likes of Hazel O'Connor and the Subterreaneans, OD Saxon and Praying Mantis, along with my friends, the Chancellors of Vice and Split Whiskers and you really couldn't ask for a better time. Check out a small selection from the festival below if you're so inclined. I say small, as I took more than 2000 photos so it will take some time to get through them all!
In addition to all that, Scott and I have been working on the new Yellow Horse website, which we hope to have ready to go by next week. I'm in London all week, so will be working on sWitch edits on my train journey there and back to sleepy Cambridge and will be working on the website in between. Phew!
Finally, stay closely tuned next week as we'll be announcing a new signing to our coterie of authors as well as a brand new imprint!