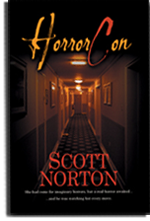 By Scott Norton
Format: Trade Paperback, 136 pages, 9″ x 6″
ISBN: 978-0615239002
Available Now from
Amazon US
and
Amazon UK
Eliza Lowell loved HorrorCon. They had the coolest celebrities, the best parties, and her authentic monster artifacts auction company, 'Once Bidden', was doing so well it was almost spooky. Together with her boyfriend Ryan and all of her friends and fans, she had found her ideal version of heaven on earth: full of love and decorated like hell. Then one lazy afternoon along an estuary near her Sarasota home, it all got taken away. Now she was devouring pain pills faster than Halloween candy, and the trick was to stay alert. She needed this convention to survive, but it was looking like the painful memories it held could lead to her ultimate undoing.
The credits on her life were rolling.
Enter Dr. Dmitrije Radan, certified loner and celebrated author with a penchant for amoral characters and a knack for hypnotism. His burning attraction to Eliza's darkness seemed rooted in needs both ancient and primal and born of a vestige of the man he once was – one who had also lost everything many years ago.
One who had made a very desperate choice.
Why was he so drawn to her? Was it simple curiosity, a desire to help, or something far more sinister? If he could break through her determination not to be, he might be able to offer her one, final chance at a future – but one that could mean changing everything she knew about being alive.
View the Minisite.