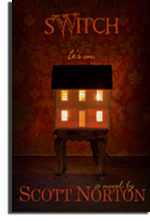 By Scott Norton
ISBN: 978-0-9828364-0-8
Format: ePub, Kindle, B-Format Paperback, 312 pages, 5″ x 8″
Publication date: 13 Sept 2010
Mired in a homogeneous suburban hell where happiness is always one impulse purchase away, what's a housewife to do when her frozen marriage refuses to thaw, and her children's lives are falling apart before they've even had a chance to begin? A trip to a run-down, mountain home she's inherited from a mysterious relative sounds like an ideal way to break the routine, and break the news she's been dabbling in the dark side.
Then they showed up––three masked assailants on their own little adventure filled with terror, torment and torture. Of course, there's no accounting for the toll years of family dysfunction has taken on their victims. For Barbara, the brutal assault may be just the thing to bring her twisted family together. For the intruders, it could be wrong family, wrong time.
sWitch is a sophisticated, subversive romp that blends the sexy with the supernatural, knowing just when to turn up the humor and when to turn down the lights. So light a fire, lock your doors, and get ready to turn the tables on everything you've ever known about horror fiction.